Hike Guatemala?s Scenic Lake Atitlan Area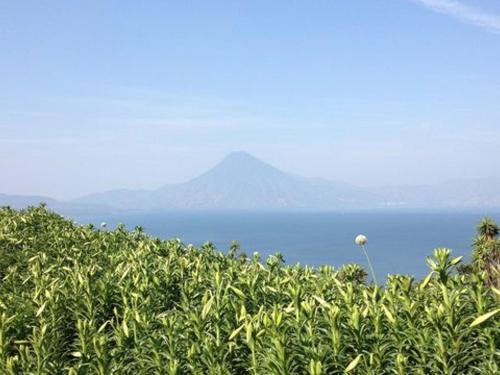 by Kim LaPat
Travel Editor, Emma Spencer Living
With a breathtaking view of Lake Atitlan, it's easy to spend hours poolside or on the many terraces and decks at La Casa Colibri. But if you ever get tired of all that relaxation, one of the best ways to experience the Mayan towns around the country's most beautiful lake is on foot. Here's a guide to some of the best scenic hikes in our little corner of Guatemala.
Onion Fields/Mountainside Lookout
This hike is perfect if you want to simply walk out of La Casa Colibri's door and get moving. It takes just 10 minutes to reach the starting point for this scenic hike to the Santa Catarina Palopo lookout at Aguas Escondidas. The walk through town is a sight in itself, where local women can be observed weaving on black looms and many Mayan descendants still wear the colorful garb of their ancestors. Winding your way through alleyways and terraced onion fields, you'll emerge at the trailhead at the top of the village. Following the diagonal mountainside path will take you to a scenic lookout point over 1,000 feet from where you began, bringing you to an elevation of 5,200 feet. There, you'll enjoy expansive views that will take your breath away. Although the payoff at the end of this 2-3 hour hike is well worth the effort, it can be a bit strenuous. Be sure to bring plenty of water and take your time, enjoying the views, sights, and sounds of nature as you go. You best bet is to start this hike early in the morning—not only to provide yourself with plenty of time, but also to take advantage of the morning shade and cooler temperatures.
Tour the Towns
Another option is to take a 15-minute water taxi ride to the picturesque bay of Paxanax and tour the towns along Lake Atitlan. A 40-minute lakeside hike brings you to the adjacent village of Jaibalito, where our concierge recommends stopping at Club Ven Aca for a tasty lunch before continuing on your adventure. Walk along the lake another 40 minutes and you'll arrive at Tznuna, a small, traditional Tzutuhil Mayan village where the buildings are still made of adobe mud brick. Here, you'll feel like you've stepped back in time to a simple, historic way of life. After wandering around the village, keep going another 40 minutes to San Marcos La Laguna, where you can indulge in (or simply watch) some cliff diving into the lake. Once you're refreshed, continue your journey to San Pablo La Laguna, another traditional village that features all of the charm and tradition of Mayan Guatemala. At this point, you can either head back to La Casa Colibri or take a pickup taxi up to the next town, where another wonderful hike awaits.
Face of the Maya
The pickup truck ride from San Pablo to Santa Clara La Laguna, which is situated more than 1,000 feet above Lake Atitlan, is an adventure in itself! As you wind your way up to this quaint village, you'll pass through coffee plantations and forested highlands. Once in town, you can take a short hike to the Rostro de la Maya (face of the Maya), a scenic overlook that resembles the profile of a face when viewed from the lake below. Amazing panoramic views of Lake Atitlan make this overlook a remarkable destination—and on clear days, you can even see all the way to the Pacific Ocean!
San Pedro Volcano Summit
The hike to the summit of the San Pedro Volcano is an extraordinary experience, but is not recommended for the novice hiker. Those up for the challenge of the 4-hour ascent and 3-hour descent through scenic forest and farmland will enjoy astonishing views of Lake Atitlan and the town below from the summit of the volcano itself. The trail begins in the Tzutuhil Mayan village of San Pedro La Laguna, where you can hire a local guide to take you up the mountain for as little as $5.00.
Cloud Forest
A variety of guided hikes through Guatemala's virgin cloud forest begin in Santiago Atitlan at the back of the bay between San Pedro and Toliman volcanoes. Treks are typically strenuous and a bit lengthy, taking you through various microclimates to see waterfalls, natural springs, tropical foliage, exotic birds, and of course, jaw-dropping views of the lake and countryside. The hiking packages, available at www.funatlakeatitlan.com, include lunch and are a great value for an all-day, unforgettable adventure.
Hiking is a great way to see and experience the Mayan communities that surround Lake Atitlan in a natural, exhilarating way. With many different options to choose from, you can be sure that whatever hikes you choose, you'll be rewarded with out-of-this-world views and memories to last a lifetime.
Mayan Ruins: Things to Do in Guatemala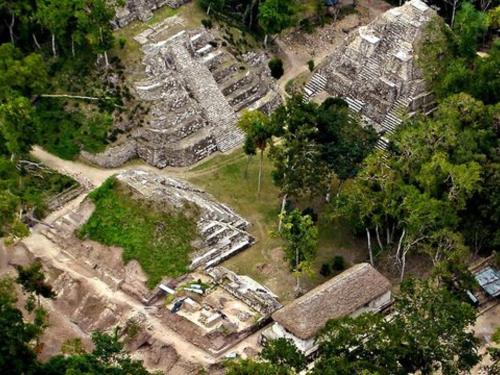 by Edward Allen
Travel Writer, Emma Spencer Living
For much of its history, the Central American country of Guatemala was part of the enormous Mayan civilization that controlled this part of the world. Established around 2000 BC and lasting until the conquest by the Spanish in the early 16th century, this highly-developed society is known for its art, architecture, mathematical methods, and astronomical systems.
Today, descendants of the Maya peoples still play a key role in Guatemala, especially in and around the villages of Lake Atitlan. Throughout Guatemala, there are numerous major archeological sites that visitors can explore to get an understanding of the scale, scope, and impact of the Mayan civilization.
To help you plan out things to do in Guatemala, here are some of the key Mayan sites found in this historically-rich country.
Things to do: Yaxha
Located in the Peten Basin region, this Mesoamerican archeological site boasts several major pyramids as well as associated structures such as ball courts and carvings. The Yaxha site (pictured, right) is enormous—the third largest in the country—and was clearly an important location within the Maya empire. Situated high on a hill, this impressive site overlooks Lake Yaxha and includes the ruins of hundreds of structures.
Things to do: Tikal
Just near Flores, amid the tropical rainforest of Northern Guatemala, is the Tikal National Park. A major ceremonial site for the Maya people, the complex at Tikal (pictured, left), contains numerous temples and pyramids. Research shows that most buildings were constructed here between 300 BC and 100 BC, but the complex continued to be expanded and developed until around 800 AD. Tikal was likely the Maya capital of this region. This site has been listed as a UNESCO World Heritage site, and is one of the largest, with over 3,000 ancient monuments and structures documented. In addition to a variety of residences, palaces, ballgame courts, administrative buildings, and stone monuments are several pyramids and temples, the largest of which is 213 feet high.
Things to do: Dos Pilas
Found in north Guatemala, Dos Pilas is believed to have been one of the Maya Empire's ancient capitals. Evidence suggests that Dos Pilas was abandoned by the ruling dynasty in the late 8th century due to local warfare. Although relatively small and not as well preserved as other Maya sites, among the ruins are numerous structures, including a temple pyramid.
Things to do: Ceibal
Located in the Peten area of Guatemala, Ceibal is a Maya city that is believed to have been constructed, then abandoned, and then inhabited again as the fortunes of the Maya dynasties rose and fell. As a medium-sized site, one of the key points of interest in the ruins is the round temple and the surrounding structures and carved stones.
Things to do: Aguateca
This was a major ceremonial site for the Mayan civilization and likely to have been a capital or major center for the empire around the year 700 AD. The elevated position of this city made it strategically important, but it is believed that it was attacked and burned down around the year 800 AD. The ruins here are said to be some of the best preserved in the country.
Things to Do: Guatemala City Museum
For a more in-depth look at the history of the Mayan civilization, visit The Guatemala National Museum of Archaeology and Ethnology in Guatemala City. There, a huge collection of exhibits and artifacts showcases the ancient cities, people, and culture of the Maya era.
Guatemala is a fascinating country with a rich and ancient history. When you're visiting Guatemala and looking for things to do, put some of the many impressive archaeological sites across the country on your list. Taking in the ruins of ancient Mayan culture is a great way to appreciate the forces of the past that have shaped the Guatemala that we see today.
Epicurean Travel's Guatemalan Adventure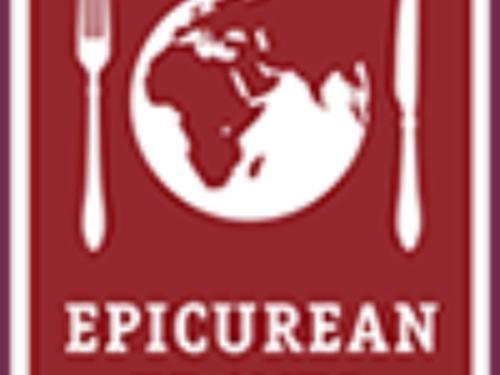 by Kim LaPat
Travel Writer, Emma Spencer Living
Epicurean Travel, a renowned organization specializing in food-focused tours of exotic locales, is planning an adventure to Guatemala—and La Casa Colibri will be home base for the majority of the culinary journey. The trip will lead a small group of cuisine- and culture-centric travelers through the beautiful and diverse country of Guatemala, with stops in numerous Lake Atitlan villages. In addition to the many restaurants and local eateries that will be visited, countless meals will be prepared and enjoyed in La Casa, with our prized indigenous cook, Angela, serving up her traditional Mayan fare. Cooking classes and side-by-side prep with Angela are also available during the stay. The unique, 8-day itinerary includes a private boat ride on Lake Atitlan, a bi-lingual guide to provide insights and special recommendations, free time to explore the country, and a variety of add-on destinations and activities. We at Emma Spencer Living are delighted to open our Guatemalan home for this incredible tour—perfect for the foodie, cultural connoisseur, travel aficionado, or anyone who appreciates great food coupled with a great adventure. For more information on Epicurean Travels tours, including its Guatemalan destination, visit the website at http://epicureantravel.com/explore-guatemala/. With La Casa Colibri serving as the tour's primary accommodations, the trip is sure to be a feast for all the senses—sight, sound, touch, and of course, great taste!